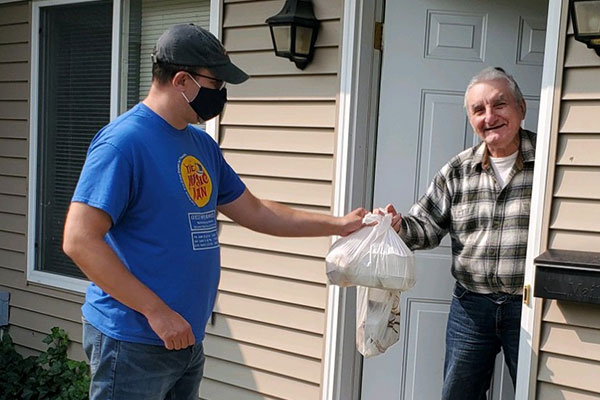 Our Senior Nutrition Services are a vital component of our goal to enhance the lives and health of seniors and help them remain independent.  These services include Home Delivered Meals (Meals on Wheels), F.E.A.S.T., and Congregate Sites where seniors can gather to eat and socialize.  These services are available for seniors 60 or older who are residents of St. Clair County.  For more information, or to arrange for meal delivery for yourself or an acquaintance, call (810) 982-4400 or 1-800-297-0099. To view the monthly menu, please click on the buttons below.
Home Delivered Meals
Meals on Wheels
The Meals on Wheels program is for seniors who are homebound, and/or unable to shop and cook.  For these clients, a daily visit, Monday through Thursday, from our home delivered drivers not only brightens their day, but also provides them with a hot nutritious lunch and, for some, a cold meal for dinner.  Participants must be home for a meal to be left.  Frozen meals are delivered during the week for Friday, Saturday, and Sunday.
Meals are available to homebound seniors 60 and over regardless of their income.  The suggested donation per meal is $2.50.
What if I can't afford any donation for my meal? We will continue to deliver meals to you. Our program is not based on ability to donate for the meals. It is based on our clients' need for balanced, hot meals that help to keep them independent and healthy. We accept any size donation for the meals.
Do I pay the driver every day? You can pay the driver everyday if you wish. A donation envelope will accompany your meal twice a week. Place whatever donation you can afford in the envelope and either give the envelope to your delivery driver or you may mail a check to us.  Many clients pay on a weekly or monthly basis.
How many days a week can I get meals? We can deliver one hot meal per person per day Monday through Thursday. Some of our recipients receive meals for the whole week while others need meals only two or three days a week. Some clients receive frozen meals sometime during the week for the weekend. These can be reheated in a microwave, conventional oven, or toaster oven.
Can I order what I like, or substitute for my special diet? We prepare over 1,000 meals per day, so we have a fixed menu each day. We are unable to accommodate dietary preferences or restrictions. A different choice is offered whenever there is fish or pork on the menu.  Over the course of a month, the meals will range from casseroles, fish, beef, turkey, and chicken. Each meal includes a protein, vegetable, starch, milk, and fruit.
What time of day will it be delivered? It depends on where you live. Your route may get meals in the morning or in the afternoon. The meals will be delivered at about the same time every day.
F.E.A.S.T.
Friends Eating And Socializing Together
Vouchers can be used to eat at a local restaurant at a discount off of a limited menu on Tuesdays and Thursdays from 11:00 a.m. – 2:00 p.m. The suggested donation is $4.00 per voucher.
Currently, our participating restaurant is:
Four Star Grille
1835 Gratiot
Marysville, MI 48040
Monday through Friday seniors ages 60+ throughout St. Clair County can partake of a hot meal served at one of the seven congregate meal sites.  These seven meal sites offer seniors a chance to enjoy a delicious, low sodium meal that meets one third of an individual's nutritional needs, while in the company of friends.  In order to better serve the county, seniors are asked to make a reservation at the meal site they would like to attend by 1:00 p.m. the day before.  The meals are available to all seniors 60 and over and their spouses regardless of income.  The suggested donation for a meal is $2.50. 
The meal sites are located at:
Conrad Community Center
(810) 395-7889
585 N. Main Street
Capac
Harvey Reinvestment Center (RIC)
(810) 300-3209
3013 24th St.
Port Huron
Life Skills Center Memory Care
(810) 385-3710
716 17th Street
Port Huron
Palmer Park Rec Center
(810) 434-2560
2829 Armour St.
Port Huron
Starpath Adult Day Service
(810) 984-8970
600 Grand River Ave.
Port Huron
Washington Life Center
(810) 765-3523
403 N. Mary St.
Marine City
Yale Senior Center
(810) 387-3720
3 First Street
Yale
Senior Project Fresh is a USDA program that provides low-income adults age 60 and older with unprocessed, Michigan-grown produce. Seniors at 185% of poverty or less can receive nutritional information and a coupon book with five $5.00 vouchers to use at authorized farmers markets and roadside stands to select their choice of fresh fruits, vegetables, honey, and herbs. The Council on Aging raises funds to purchase the vouchers from the State of Michigan then distributes them to eligible seniors. The farmers then turn the vouchers back into the State for reimbursement. Thus, the program benefits vulnerable seniors and local farming families. For more information, call (810) 987-8813.
Holiday Meals on Wheels
Thanksgiving • Christmas • Easter
The Senior Nutrition Program, in cooperation with the Area Agency on Aging 1-B and our many dedicated volunteers, distribute meals on Thanksgiving, Christmas, and Easter. The menu for each meal includes traditional holiday fare. The delicious holiday meals are prepared by staff, packaged for pickup, and delivered countywide by cheerful volunteers. To receive a meal, the recipient must be 60 years of age or older, home alone, and a St. Clair County resident. To reserve a holiday meal, or to sign up as a volunteer, please call the Senior Nutrition program office at (810) 982-4400.