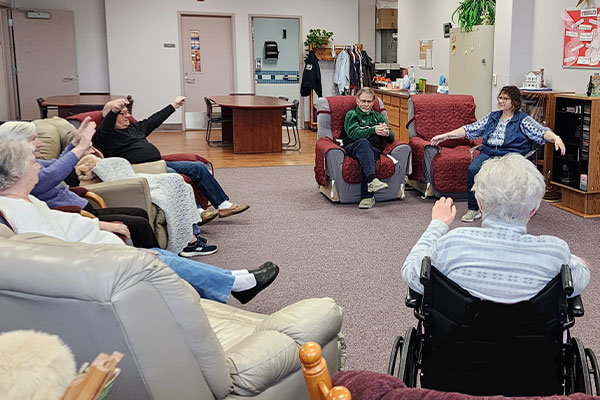 When a person is providing care 24-hours a day to a loved one, it does not leave much time to run errands or to do some of the special things that interest the care provider.  It also makes holding a job almost impossible for some care providers.  Starpath Adult Day Service is an alternative for individuals in these types of situations.  Starpath is available Monday through Friday, 8:30 a.m. to 4:30 p.m. to provide supervised activities, companionship, exercise, and mental stimulation for seniors who cannot be home alone due to stroke, dementia, or other medical conditions.  Clients' schedules are based on family need. Cost share is based on income level. Transportation and personal care services are available.
Clients arrive each day at Starpath Adult Day Service and are greeted by a cheerful staff who will attend to their needs throughout the day. There are activities for the seniors to participate in, as well as quiet areas to relax. The seniors are made to feel that Starpath is their "home away from home," and they are encouraged to participate in the seasonal decorating and daily activities.
For more information, please contact Brian Larsen: (810) 984-8970 • blarsen@thecouncilonaging.org
Find additional local resources for Dementia and Alzheimer's Disease in St. Clair County through the Dementia and Alzheimer's Association of St. Clair County.