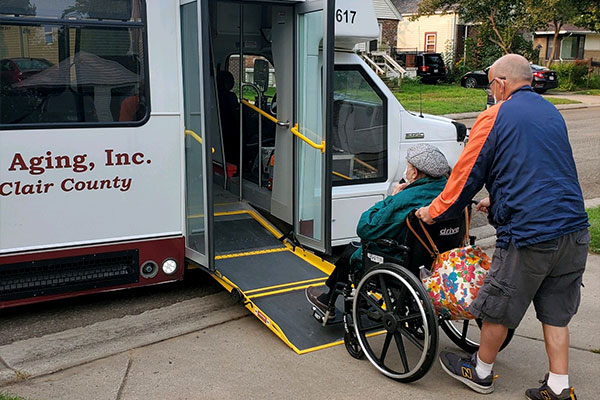 Mobility can be a prime factor in determining whether or not a senior is able to live independently.  For over 50 years, the Council on Aging has been assisting with this need by providing door to door pick-up and return transportation service for seniors and the disabled throughout St. Clair County.
Our fleet includes Michigan Department of Transportation handicapped vans which are capable of transporting those who are wheelchair bound, along with additional vans and cars.
Service is available Monday through Friday from 8:30 a.m. pickup until 3:30 p.m. drop off. A one week notice or more is preferred to schedule a ride. Scheduling rides the day before or day of your appointment probably cannot be accommodated as the schedule is likely full. Transportation is prioritized by medical appointments followed by requests for shopping, senior center visits, business, private or public agency appointments, and visiting. Due to the multitude of requests received for this service, the Council on Aging limits individuals to two return trips per week, per individual, with more trips scheduled if space and time permit. Every effort is made in cases that need continuous treatment (such as chemotherapy or kidney dialysis), to provide more than two trips if time and scheduling permit.
If you need a ride, remember it is only a telephone call away…
Port Huron: 810-984-4200
Downriver: 810-765-8570
Yale & Capac: 844-289-7784